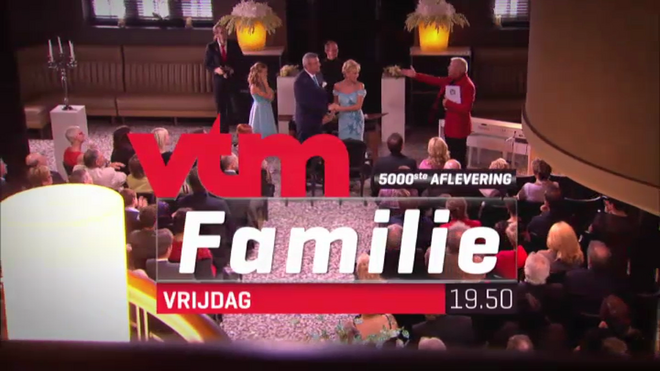 Op exact vrijdag 1 februari, bereikte Familie een nieuwe mijlpaal. Als we terugkeren naar 30 december 1991 om 18u30 op VTM, zien we de eerste beelden van Karel Deruwe, Martine Jonckheere, Eric Goossens, Anne Somers, Jef Desmedt, Riet Van Gool, Lieselotte Mariën, Christophe Du Jardin, Jacky Lafon, Steve Mees, Guido Horckmans, Annie Geeraerts, Hilde De Roeck, Bob Stijnen en Nini Van der Auwera in Familie. Als we 21 jaar, 39 dagen, 2 uur en 20 minuten later naar diezelfde zender en datzelfde programma keken, zien we Caroline Maes, Michael Vroemans, Jef Desmedt, Sandrine André, Roel Vanderstukken, Ludo Hellinx, Hilde De Baerdemaker, Silvia Claes, Chris Van Tongelen, Annie Geeraerts, Ray Verhaeghe, Jacky Lafon, Jens Gruyaert, Jordi Rottier, Sarah-Lynn Clerckx, Katrien De Becker, Gunter De Batselier en Martine Jonckheere in een Familie die op vrijdag 1 februari van 4999 afleveringen naar maar liefst 5000 afleveringen overging.
Inhoud
De 5000ste aflevering van Familie draait in het geheel om de trouw van Marie-Rose & Matthias, maar natuurlijk zijn er nog bijkomende verhaallijnen.
Synopsis
Voor Guido is het huwelijk van Marie-Rose en Mathias de ideale gelegenheid om Charlotte aan de ganse familie voor te stellen. Hoewel de generale repetitie een flop was, verloopt de trouwpartij volledig naar de wensen van het bruidspaar. Dit betekent echter niet dat huwelijksplanner Ronny niets om handen heeft. Hij moet in alle discretie één van de gasten naar huis zien te brengen.
Bijkomende verhaallijnen
Rita is te laat op het huwelijksfeest omdat ze gedronken heeft. Na even op het trouwfeest geweest te zijn, brengt Patrick haar weer veilig terug naar huis.
Guido neemt Charlotte mee naar het trouwfeest van Marie-Rose & Mathias.
Jana breekt met 'Familie'.
Ad blocker interference detected!
Wikia is a free-to-use site that makes money from advertising. We have a modified experience for viewers using ad blockers

Wikia is not accessible if you've made further modifications. Remove the custom ad blocker rule(s) and the page will load as expected.