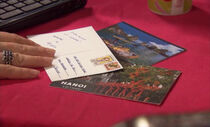 De kaartjes van Maarten
Twee maanden na het buurtfeest krijgt Mieke een kaartje van
Maarten
en
Roos
, die momenteel in Vietnam verblijven. Mieke stuurt een mailtje naar
Maarten
om hem in te lichten over wat er de laatste tijd zoal gebeurd is in
Familie
. Nadat Mieke het nummer van
Gunther
, de kleinzoon van een patiënte uit het Algemeen Ziekenhuis, heeft gekregen, krijgt ze
Gunther
aan de lijn. Ze slaat zijn aanbod om op restaurant te gaan af, onder het mom van
't is mijn type niet
,
ik heb daar toch ook helemaal geen tijd voor
en
wat als het niet klikt
.
Evy
en
Niko
raden haar aan om haar kans te wagen. Intussen blijkt ook dat ze samen met
Linda
volgende week - de eerste week van september - start als zelfstandige verpleegster. Haar laatste werkdag in het Algemeen Ziekenhuis is op dinsdag 27 augustus 2013. Uiteindelijk waagt ze dan toch haar kans en belt ze terug naar
Gunther
, om hem te laten weten dat ze met hem op restaurant wil gaan. Niet veel later belt ze terug en in plaats van met hem op restaurant te gaan, nodigt ze hem uit bij haar thuis.
Ad blocker interference detected!
Wikia is a free-to-use site that makes money from advertising. We have a modified experience for viewers using ad blockers

Wikia is not accessible if you've made further modifications. Remove the custom ad blocker rule(s) and the page will load as expected.