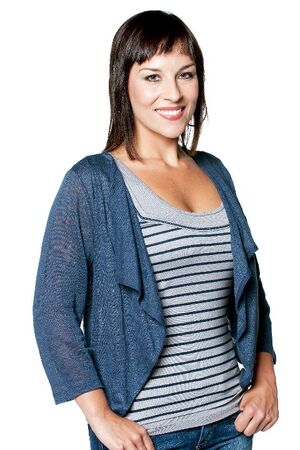 Roos Sterckx heeft een relatie met Maarten Van den Bossche.
Stamboom binnenkort
Algemeen
Roos heeft een tijdje gewerkt als verpleegster in het ziekenhuis waar ze een collega was van Linda. Wanneer Roos een bezoekje brengt aan Linda in het café zijn Maarten en Niko al snel in de ban van de jongedame. Ze wordt vertolkt door Heidi De Grauwe. Roos is een levenslustige vrouw die steeds op zoek is naar nieuwe uitdagingen. Ze komt heel extrovert over, maar eigenlijk heeft ze een grote mond en een klein hartje. Maarten zal er voor zorgen dat Roos in het café aan de slag kan, maar hij heeft het moeilijk om openlijk zijn liefde voor haar uit te spreken. En ook Roos heeft duidelijk wel een boontje voor Maarten maar geeft dat niet zo snel toe... Nu vormen deze twee een koppel.
Familiaal
Er is niemand van de familie van de Roos bekend.
Carrière
Roos werkt als serveuze in de KomEet.
Verhaallijn
Seizoen 22
Vanaf 27 augustus 2012
Vanaf 1 januari 2013
Vanaf 1 februari 2013
Extra
Afbeeldingen
Ad blocker interference detected!
Wikia is a free-to-use site that makes money from advertising. We have a modified experience for viewers using ad blockers

Wikia is not accessible if you've made further modifications. Remove the custom ad blocker rule(s) and the page will load as expected.