Tijdlijn
1991
1992
1993
1994
1995
1996
1997
1998
1999
2000
2001
2002
2003
2004
2005
2006
2007
2008
2009
2010
2011
2012
2013
Aflevering 5105
| | |
| --- | --- |
| Aflevering in totaal | 5105 |
| Aflevering | 220 |
| Seizoen | 22 |
| Uitgezonden op | 28 juni 2013 |
| | |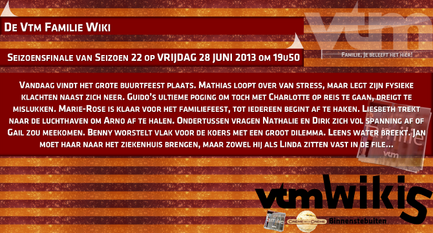 Aflevering 5105 is de 220ste aflevering in
Seizoen 22
en is daarmee de seizoensfinale van dit seizoen.

Aflevering 5105 is de 220ste aflevering van Seizoen 22. Het is de seizoensfinale van Seizoen 22.

Vandaag vindt het grote buurtfeest plaats. Matthias loopt over van stress, maar legt zijn fysieke klachten naast zich neer. Guido's ultieme poging om toch met Charlotte op reis te gaan, dreigt te mislukken. Marie-Rose is klaar voor het familiefeest, tot iedereen begint af te haken. Liesbeth trekt naar de luchthaven om Arno af te halen. Ondertussen vragen Nathalie en Dirk zich vol spanning af of Gail zou meekomen. Benny worstelt vlak voor de koers met een groot dilemma. Leens water breekt. Jan moet haar naar het ziekenhuis brengen, maar zowel hij als Linda zitten vast in de file...
Wordt het buurtfeest een succes?
Gaat Matthias niet ten onder aan de stress?
Lukt Guido's ultieme poging om toch met Charlotte op reis te gaan?
Hoe stelt Arno het?
Komt Gail mee naar België?
Met welk dilemma worstelt Benny en wat voor gevolgen heeft dat voor de wielerwedstrijd?
Is Leen op tijd in het ziekenhuis en zal haar baby het goed stellen?

Afleveringen
Vorige aflevering:
Aflevering 5104
Volgende aflevering:
Aflevering 5106
Seizoensfinales
Vorige seizoensfinale:
Seizoen 21
Volgende seizoensfinale:
Seizoen 23
Ad blocker interference detected!
Wikia is a free-to-use site that makes money from advertising. We have a modified experience for viewers using ad blockers

Wikia is not accessible if you've made further modifications. Remove the custom ad blocker rule(s) and the page will load as expected.